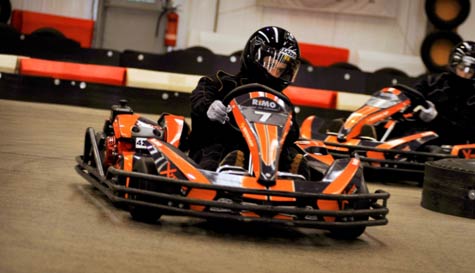 Our Edinburgh stag party go kart track is quite simply epic! Go karts are always a firm stag party favourite, a chance to settle old arguments over who is the best driver and this session is designed to finally settle those arguments once and for all.

You'll face a series of qualifying heats during which time you'll swap grid positions and karts so no stags can claim they were at a disadvantage. You'll also get a complete digital print out of your individual track times and race stats you can talk/laugh over in the pub thanks to the integrated F1 Analysis System which logs every kart's times to within 100th of a second,

The track itself is spectacular with a superb surface, tyre walls, an amazing fly-over, tunnel and more. It feels even more impressive when your going wheel to wheel with your fellow stags at over 40mph with your butt just inches off the floor. You'll be racing 200cc Rimo Evo 5 Karts which are tuned to race prep readiness for full throttle, adrenalin pumping every time the lights turn green.

There's also an onsite cafe which has a range of hot and cold drinks and snacks where you sit, watch and laugh at the rest of the stags' heats.