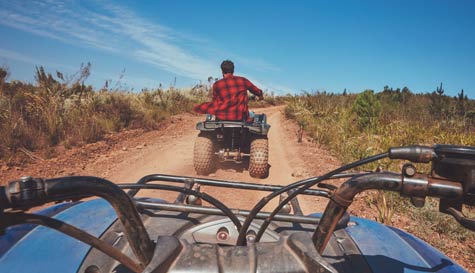 If quad-biking is at the top of your list of activities for your stag weekend then you couldn't do better than our Exeter site. This is truly the complete quad biking experience, offering you and the lads an expanse of 12 miles to ride on! This purpose-built track will certainly separate the boys from the men; it will take the complete driver to master this challenging track. However, if the sound of that has you breaking out in cold sweats beneath your visor, then don't fear. This course caters to drivers of all abilities, so whether you're a total beginner or you fancy yourself an absolute pro you're sure to have a great time.

You'll have a few practice laps to allow you to get used to the raging bulls you've found yourself riding on and to adjust to the tracks many 'holy crap!' moments before it's time to put your skills to the test and really rip up the track in front of you, allowing your personal beast to tear through this superb track designed for stags just like you.

You'll experience a variety of changing terrain as you progress around the track featuring terrifying slopes (you might even produce the groom's classic schoolgirl squeal), huge puddles to plunge into and of course, it wouldn't be quad-biking with a whole load of the brown stuff. If you aren't covered head to toe with mud by the end of it all, you haven't done it right. An excellent excuse to spend an afternoon in the coastal countryside for an afternoon, this quad biking activity in Exeter is a must for any stags who can't wait to see a very precious groom absolutely caked in mud!