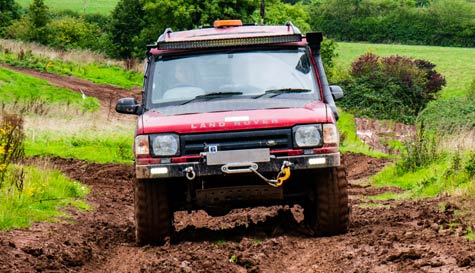 If your groom-to-be is a self-confessed petrol head or you have a party of Top Gear fans then they're sure to absolutely love our extreme 4x4 driving challenge. This is a driving test stag-style, forget parallel parking and 3 point turns, just try not to park our shiny motors in a tree! You and the boys will have the opportunity not only to be in complete control of a fantastically powerful, suped-up 4x4 (read: utterly indestructible), you'll also have the chance to face an awesome set of obstacles and epic driving test of skill, nerve and also a test of your passengers underwear "Watch out for that...!!!"

4x4s have become synonymous these days with the 'Chelsea tractor' image, for yummy mummies who like to use their huge cars in the city. Now we don't know about you but leaving all that power and potential for speed, mud and mayhem untapped just doesn't seem right! Realign the balance and take your very own off-road vehicle where it deserves to be - off-road. Our 4x4 driving experience in Glasgow really is a supreme test of your driving skills and our expert instructors will help you to get the absolute most out of your experience so that it's always so much more than simply a spin around the track.

They'll also add that all-important competitive element by awarding points for the best drivers. It's then up to you guys if you want to award a prize to the winner or set pint penalties for the worst driver.