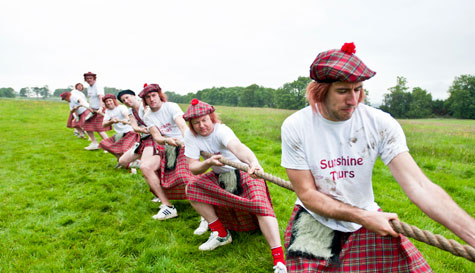 No Glasgow stag do is complete without some healthy sporting competition and there's no greater test of a man than the Highland Games. For those not in the know, imagine the Olympics had been dreamt up by two wee Scots fellas, in a boozer somewhere in the back of Inverness while deep into their 4th bottle of whiskey. Add extra danger, near-impossible tasks, sprinkle with Tartan and the sound of bagpipes and you're just about there.

Split into teams you'll tackle a series of epic tartan inspired challenges, but in terms of winning teams, in the words of Highlander... "There can be only one!" (although we would like to point out you won't be required to chop anyone's head off, any decapitations will be completely unintentional and should be avoided at all times).


Tossing The Caber - Simply pick up an entire tree trunk and lob it as far as you can. Easy. To give you a sporting chance you will be using slightly smaller but still "bloody heavy" cabers.
Haggis Hurling - Bred and raised locally these little critters are hard to catch. Thankfully all you've got to do is throw them as far as possible. Please note; no actual haggis were harmed during the making of this event.
Archery - What better traditional sporting challenge would better suit a band of particularly merry men? "Lets... Play... Arrows!"
Fly Casting - It doesn't get more rural than this. You'll need a feather-light touch and real skill to master the required accuracy and technique.
Target Golf - It's not quite St Andrews but this is a brilliant test of your skill with a club. Various targets and distances to chip and aim for.
Shot Putt - A test for the manliest of men. You'll be throwing steel balls of varying weights into scoring zones.
The Whisky Challenge - A cunning test of accuracy. The last person standing wins the bottle!
Bagpipe Playing - Some of the lads might well have more wind than Glasgow in November, in which case this is the perfect opportunity for them to truly shine.
Welly Hurling - It's Man vs Footwear as is this battle of strength and accuracy. Getting power behind your throw is easy but to chuck it furthest and stay within the boundaries takes a little more skill.
Please Note; Games and challenges may vary depending on the weather and groups size.