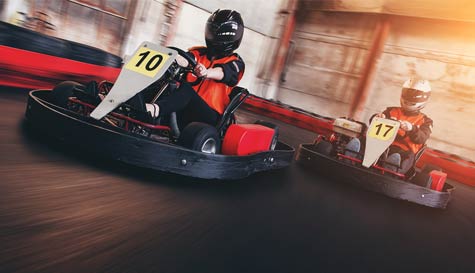 There are no two ways about it, go karting is EPIC! It's the perfect stag activity, combining all the thrills of motor racing with all the best comedy banter from a group of (possibly hungover) guys about to go wheel to wheel in a race for all the stag party bragging rights.
As blokes, we all like to think we're a bit tasty behind the wheel, but now is your real chance to prove it and determine who is the Stag Stig and who is Captain Slow. But hold on to your helmets there chaps, we seek out high powered karts and these bad boys are harder to command than you might think. Especially when your backside is bouncing along just a few centimetres off the tarmac.
From London to Ljubljana, we've hand-picked the finest go kart tracks across Europe and the UK. And that's no idle boast, we personally visit all our tracks to ensure they meet our high standards, guaranteeing that you get only the very best racing action.
The tracks, kart specs and programs vary from track to track so please check with our team for details. Some tracks will have a bar/cafe and there may also be a podium presentation and/or race telemetry giving you a breakdown of the best laps and race times.