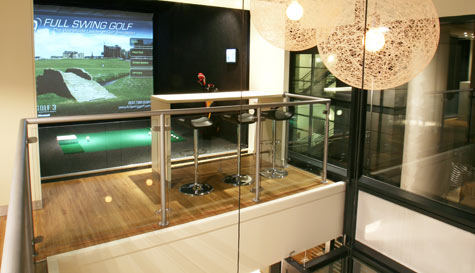 Golfing is a classic stag activity for lads who've had just a bit too much of the good stuff the night before. But sometimes, we know, braving the outdoors can just be a right pain in the backside when it feels like Arnie himself has got a vice grip on your head. That's why we've lined up the perfect golf simulator stag party that you can enjoy. You and the lads will experience some of the best golf courses in the world, without having to fly out and pay out the nose for the pleasure.

You can try out different competitions, different games and if you're still after some weather effects in your session then it's even possible to play in all weathers. And if you're the brave 'hair of the dog' types, you won't have to wait to get past the 18th hole to get the drinks in like a real course, the bar is right in the building with you and you'll get the added benefit of skipping the boring walk between holes. Who needs fresh air, right?

Our stag party golf simulator is perfect for stags looking to play a few rounds of golf with a twist, its state of the art, action-packed fun that's sure to wedge a whole load of laughs into your big weekend. It will also help add that all-important competitive element to get plenty of stag banter flying between the lads. If you really want to up the ante you can add a few fun wagers or stag forfeits.