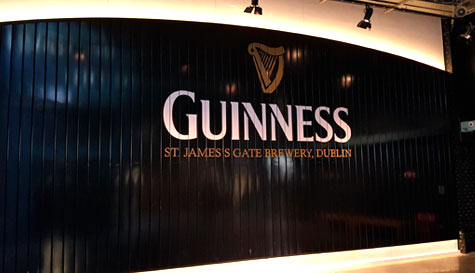 Stag Fact - It's illegal to go on a Dublin stag do and not have a pint of Guinness... Ok, we made that up, but it really should be!
However, it is definitely true that no self-respecting stag should visit the Emerald Isle without making a pilgrimage to the birthplace of one of the world's greatest beverages. Our stag party Guinness Factory Dublin Tour will allow you to drink up a wealth of Guinness knowledge, learn how it's made, the history and, importantly, just how to pour the perfect pint.
What's the Plural of Guinness?
The fantastic interactive museum details the impressive 250-year history of the rich smooth, velvety goodness. You can go around the factory with a guide who'll take you on an epic journey through the life of this Irish classic or why not tour the brewery on your own? The choice is yours. This is truly the ultimate Guinness experience and for stags who love their ales, this is absolutely perfect. You're sure to get in the groom's good books with this one as you learn about a drink that, if it isn't already, should be among his favourites.
Guinnesses? Guinnii? Guinnnoua?
The black stuff has been brewed locally since 1759, but you and the stags haven't got over 250 years on your weekend (however much you might wish you didn't have to go home after). So don't stall on this one, it's honestly a great activity that'll get all the lads interested in one of the best drinks behind any bar.

A Guinness Brewery tour on a Dublin stag party is an absolute must, in fact, not going might result in your immediate deportation… you've been warned!
Find Out All There Is To Know With A Guinness Brewery Tour!