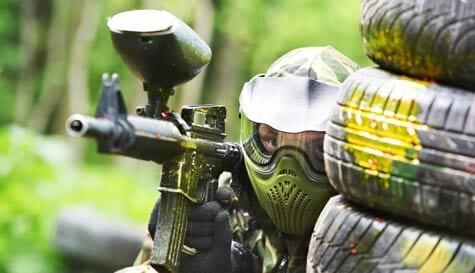 It's a stag do, the groom's last days of single life/happiness, that means if you're going to do things, do them big!
This fantastic day of stag action has more thrills and spills than taking Luis Suarez to an all you can eat buffet and telling him to try the Italian. You'll be greeted by the team of friendly instructors, then the 'friendly' is over, it's time to get your game faces on ready for the stag carnage ahead. You'll be doing battle over 3 awesome activities:
Paintball
You'll be armed with semi-automatic weapons and 500 paintballs each (you can buy more on the day). It's then 2 & 1/2 hours of paintball war. You'll split into teams and play a number of different scenarios and missions. This is a great chance to give the groom a complete Dulux makeover. And remember, all's fair in love and paintball.
Lunch & Swim Break
Lunch is not provided but there are plenty of cafe and restaurants nearby or a handy picnic area if you want to bring your own lunches. There's also time to cool off with a quick swim.
Human Table Football
Did you ever look at those little men, spinning around on poles in your old youth centre and think "I'd love to do that?" No, we didn't either, but now that the reality is here it's simply too mad not to go and do it. You'll be hooked up to poles and then it's feet of fury as you and your teammates play to win.
Archery
The final event is every stag for himself. You'll be going all medieval as you shoot it out using 45-pound draw recurve bows to see which of the guys is a true Robin Hood and who's just Robin Thicke.