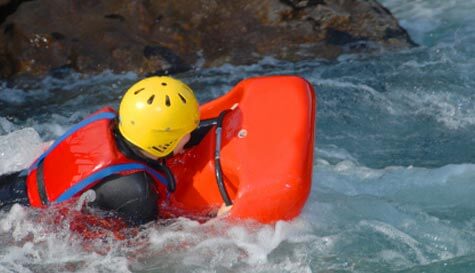 So, you think white-water rafting is for wimps? No problem, we've got the next step in extreme watersports. It's essentially white-water rafting without safe benefit of a cosy raft, instead you're going to be going down river with just a board to (hopefully) keep you heading in the right direction. You'll be heading down stag creek without a paddle. Stag party hydrospeeding will deliver a massive adrenaline rush to leave the guys buzzing all day!

This epic water sport was invented by adventure leaders who got tired of regular rafting and needed something even crazier to quench their thirst for action and adventure. It's a floating board you hold ahead of you to protect you from rocks and obstacles and steer by twisting the turning the handles. Yes, it really is as mad as it sounds and utterly brilliant!

You'll be kitted up with a wetsuit, flippers and your own board, lead by your instructors down a rapid course that'll feature crazy twists and turns and fast drops among other high-speed white-water obstacles. You'll need to constantly adjust to keep yourself heading the right way, using two handles to guide the craft's fins to cut through the water and find the best route. The added incentive is the rest of the guys will all be making the same journey meaning there'll be competition, stag banter and the rest of your group all hoping they're not the one that has to be rescued from the river's edge like a landed salmon.

Stag party hydrospeeding is a must for stags who want to get some unique thrills of the unexpected kind on their big weekend. There are very few places to try hydrospeeding, so you won't get many chances in life to experience something this crazy. Not for the faint-hearted, this is definitely one of our top picks for stag adventure and one for the bucket list. Come and have a go if you think you're hard enough.