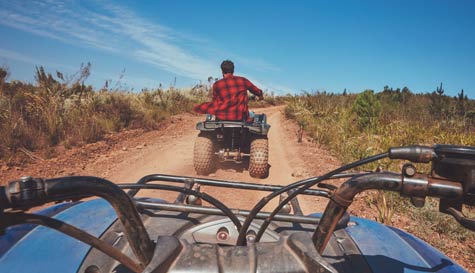 This high-quality ride sees you taking to the open road to explore and see all the sights that Ibiza has to offer, aside from the groom with his head down the toilet, there's no beating that really is there? But this quad bikes stag party in Ibiza is certainly in with a shout. You'll be provided with your own guide to take you through the four-hour tour. You'll experience the sheer thrill you've seen on the grinning faces of Jeremy Clarkson and company as you ride along the European roads of Ibiza, hopefully with the sun out!

You and the boys will learn new driving skills (like driving on the right side of the road, which is always a head-scratcher) as well as taking in all the excitement this ride has to offer. One of the highlights of this trip is a pit stop at the striking beaches of Cala Conta where you might be able to soak up some rays as well as getting some quality grub, beverage included (we'd recommend non-alcoholic, wouldn't want the Spanish inquisition breathing down your neck) before you get back on your personal quad bike to once again ready your engines as you race back to Ibiza Town to get ready for the big night ahead.

This is a must for any stag weekend. There really is nothing like the feeling of driving out in the open before a night out. It's a taste of true freedom and unlike anything you'll get back at home with the added bonus of rolling back into town looking like a true badass.