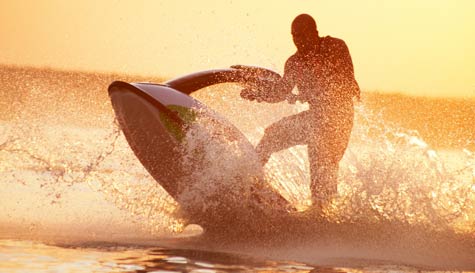 Ok, so obviously you'll need to start off with a few jokes about the groom finally having some real power between his legs.
Everyone all done there? Good.
Now you can focus on the amazing, adrenaline-pumping, wave-skimming beasts you'll be riding. We have some top machines just waiting for you to get to grips with. Jetskis are cool, in fact, there are very few vehicles on the planet that make you look quite as cool as jetskis, so it's perfectly fitting transport for what should be a legendary weekend. Another great thing with stag party jetskis is that the controls are so simple even the groom will be able to understand them.
Machines and specs will vary, in some locations, you'll buddy up, so while one of you is hanging on and screaming like a girl, his partner will be doing his best to scare the s**t out of him. But there are more great factors that make stag party jetskis the perfect choice for the weekend:
You'll get to spend time on the beach
Where you can top up those wedding tans
Jetskis make even the strangest stag look cool
You'll be out in the fresh air
They're one of the best hangover cures ever!
Not only will you be looking cool as, they're also perfect for thrill-seekers, skimming over the water at "Waaaaarrrghhh!" miles an hour, flipping the back-end round for hairpin turns, hitting speed to get some air off the swell, this is exactly the kind of action stag weekends were invented for!
A tick on the bucket list for any jetski virgins, this is just what the guys are looking forward to during their weekend of stag action. Contact our team today to find out the best locations for stag party jetski hire.