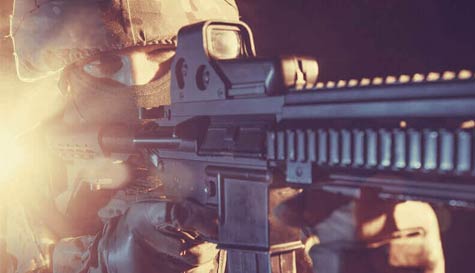 "I have come here to chew bubblegum and kick ass. And I'm all out of bubblegum." Perhaps not the average line you'll hear on most stag weekends but this is Vegas baby! It's definitely NOT your average stag weekend. Normal rules don't apply in Vegas, what happens here could stay here, or it could walk in the ghost of Elvis. It's that kind of a crazy town and this awesome shooting package is all kinds of crazy.
You'll begin by being picked up at your hotel, in an A-Team style van. With a massive machine gun fixed to the roof. Because that's how you roll! You'll be taken to the site and before you get your itchy trigger fingers on any of the hardware you will be required to listen to a safety briefing. Once the instructors are happy that you're no longer a danger to each other you'll get shootin' ("Yippee-kay-aye mother hugger!").
You'll then see the range and get your first glimpse of some of the guns carried by navy seals, the world-famous counter-terrorism unit.
12-gauge pump-action tactical shotgun (SPAS)
These Italian made guns will blow away a door allowing you to enter a building and blow away it's occupants (but don't, make love, not war!).
Glock 19
Star of a thousand action movies and the go-to-choice of handgun for good guys the world over.
M4 Machine Gun
The shorter and lighter brother of the M16 combat rifle. This has become the first choice of the US army, it can take grenade launchers and fire in semi and fully-automatic settings.
M249 SAW
The M249 Squad Automatic Weapon can fire 1,000 rounds per minute turning you into a one-man army with the ability to literally saw your target in half.
At the end of the session, you can compare your targets to see who is the best shot, there's also a bar and cafe to grab a bit to eat before being taken back to your hotel.