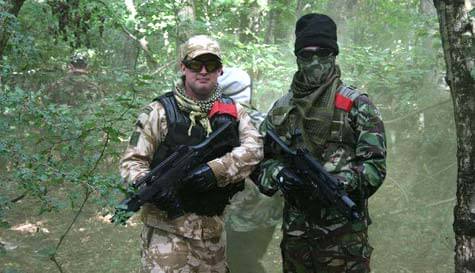 Forget Call of Duty, drag the lads away from their consoles and prepare for combat with stag party laser war games. You'll be equipped with the latest state-of-the-art machine guns which are accurate up to 100 metres as well as helmets and body armour.
While paintball is indeed a truly epic stag battle activity, Laser War Games has some superb hi-tech advantages.
No pain. No bruising. Without paint pellets hitting you at 70m.p.h you won't have to explain to your partner that the "love bite" on your neck really IS a paintball bruise.
No masks and no and scratched up goggles.
No misfires due to running out of gas.
No stray shots due to strong wind, our guns are highly accurate to over 100 metres.
No extra costs. You don't have to pay for extra ammo if you manage to loose off two hundred rounds in a blind panic (taking out half your own platoon in the process).
No environmental damage. Prince Charles will be most pleased you haven't decorated a stand of spruce trees in your rush to capture the enemy flag.
Games take place in dense woodland which really add to the atmosphere, as well as bunkers, camouflaged fox holes, sniper positions you'll also find the site littered with mines and some guns will have grenade launches for maximum firepower.
There will be a number of different game scenarios to face including:
Capture the flag
Hostage Rescue
Bomb disposal
Manhunt
Death Match - Last Man Standing
And more...
As well as settling old scores this is a fantastic way for the guys to work up a thirst without having to wash the paint out of their hair (therefore protecting the 'dos' of any prima-Maradonnas).