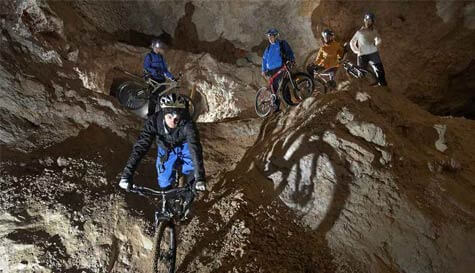 Sir Bradley Wiggins, Sir Chris Hoy, yeah, they were both good but they kept it kind of easy, they both cycled above ground which is so last year. Nah, if you really want a cycling challenge then you've got to get subterranean in the cranium. In the words of Status Quo (and we've yet to find a situation in life that can't be solved by a Status Quo songs) you've got to go down, down deeper and down.
You'll be greeted by our highly professional, English speaking guides who will get your whole team kitted up and matched with your bikes. Each stag will be given a mountain bike plus a helmet and torch, it's then down to each stag to stay on the right track and make it back in one piece (and remember, as best man it's your job to get the groom home in one piece without any extra bruises/tattoos/wives). You can gather the stags together above ground for a team selfie and then down you go.
You'll be heading through 5 kilometres of abandoned mine (yeah, it does sound a little Scooby-Doo "...and we would've done it if it hadn't been for you kids and that pesky dog!"). Inside the tunnels, the track is relatively flat in terms of elevation and only rises for 15 metres. However, this is a loose floor so don't be expecting an easy ride because you definitely won't get one and this awesome activity will not suit everybo0dy. We'd recommend it to suitably fit stags.