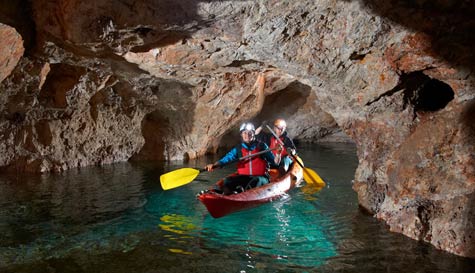 Everybody wants to do something different on their stag weekend, that one-off experience that all the guys will be talking about for years to come. Well if you want to give the groom the kind of weekend he'll remember forever then this is definitely it.
You'll start by meeting your English-speaking guide who'll get you all kitted up. Of course, you'll need to get all the guys together for the stag team photos once they're all kitted up. In the words of the mighty Status Quo, it's then time to go, down, down deeper and down. You'll enter an old abandoned mine and then things start to get totally strange. It really is like entering another world and easy to forget real life going on above you.
You'll head through caves, underground channels, and kayak across giant lakes which appear to drop away forever. The water really is crystal clear which just makes the incredible experience seem even more surreal. What's even more incredible is that all this takes place in what is an abandoned mine which means there's plenty of scope to get in plenty of Scooby Doo jokes. "Zoinks!"