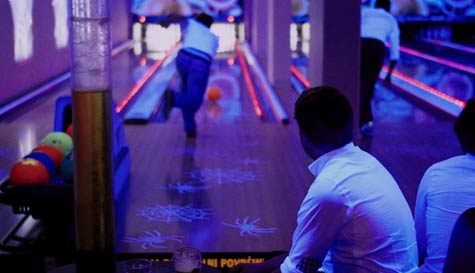 Bowling, it's cool. Anything that is loved by The Dude (The Big Lebowski) has to be cool. It's also a fantastic stag do sport; it's hugely competitive, something everyone can do and you can play while drinking beer. Does sport get cooler than that?
Well yes, it does. During this fantastic two-hour session there are good tunes playing and the lanes and balls are lit by blacklight (UV lighting) so your balls actually glow in the dark. Yeah dude! You'll get two hours of great competitive action between the guys to start a top night out. Plus you get to wear those weird bowling shoes. But that's not all, you'll also get a 3-litre beer giraffe, a tall tank, filled with beer with a tap at the bottom so you can pour your own beers while you play.
And of course, you should score yourselves bonus points for unleashing the best Big Lebowski quotes as you play.
"F*ck it, Dude. Let's go bowling." Walter Sobchak
"Careful man, there's a beverage here!" The Dude
"The Dude abides." The Dude
"This is not 'Nam. This is bowling. There are rules." Walter Sobchak
"Shut the f*ck up, Donny!" Walter Sobchak
"Do you have to use so many cuss words?" The Stranger
"Takin' 'er easy for all us sinners." The Stranger
"Has the whole world gone crazy? Am I the only one around here who gives a shit about the rules?" Walter Sobchak
"Nobody f*cks with the Jesus!" - Jesus Quintana