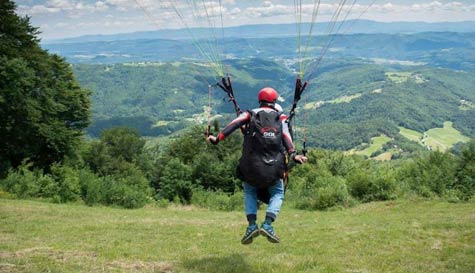 If you're looking for an extreme adventure to create a totally unforgettable stag weekend then our Ljubljana stag party paragliding activity ticks all the boxes. At high altitude.
You and the guys can be flying high over the spectacular Slovenian valleys, hills and mountains with absolute freedom and a feeling like no other. This is truly a once in a lifetime experience the guys will love.
Let's face it, this is not your average weekend and deserves something a touch above the norm, you're only going to wave goodbye to the groom's last days as a single man once so do it in style, soaring like (slightly hungover) eagles.
Our friendly team of English-speaking instructors will be with you every step of the way. You'll be shown how to equip and stow your shoot and taught the procedures for take-off and (more importantly) landing so that all the guys touch down safely.
If not all the guys are as keen at getting airborne then you can select which stags want to fly or even just send the groom climbing up into the skies with just a canopy and guide to keep him aloft. This is certainly one of our more audacious and daring stag challenges and certainly not for the faint-hearted. Transport can also be supplied to and from the activity with an English-speaking host. Please ask our team for more details.
The scenery is superb, the challenge is something very few stags will accomplish and our Ljubljana paragliding stag party activity is the kind of legendary stag adventure the guys will be talking about long after the hangovers have cleared.