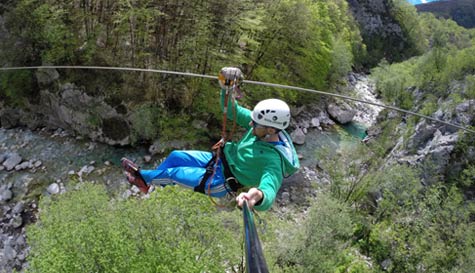 At StagWeb HQ we're lucky, we get to try all kinds of mad challenges but nothing we've tried compares to this absolutely stunning daredevil ride down what is without doubt one of the world's greatest ziplines.
You and the guys will be taking on a simply unforgettable experience as you challenge yourselves (and your hangovers) to cross rivers and ravines, valleys and cliffs on what is a totally adrenaline-pumping adventure. The site is a long drive from Ljubljana but totally worth it. You really don't get many chances in life to try something like this and we really would recommend you do. It's a journey like no other and something the guys will remember for years to come.
Once you arrive on-site the friendly English-speaking instructors will get you kitted up with helmets, boots, gloves and harnesses. It's then just a case of deciding who should go down first (naturally all fingers should point at the groom, if anyone should be put in danger it's him, for being daft enough to get married in the first place!).

Once hooked up you'll be heading down eight different lines that stretch a total of two kilometres. The scenery is truly spectacular as the line weaves through the landscape. We would definitely recommend dusting off your old selfie stick (remember those?) as you will get the most incredible photos. And if you have an active-cam such as a GoPro then have it ready for this ride of a lifetime.
With rushing waters that boats and kayaks don't dare to paddle, The Uja River and canyon is a stunning, untouched area of The Soa Valley, where you and the stags can get an unspoiled view without it being blocked by annoying tourist groups. This is something fantastic and totally different for your stag party activity, perfect for challenging the guys and packing lots of adrenaline into your weekend. Prepare for 2km long routes with some starting at a whopping 50 meters high!