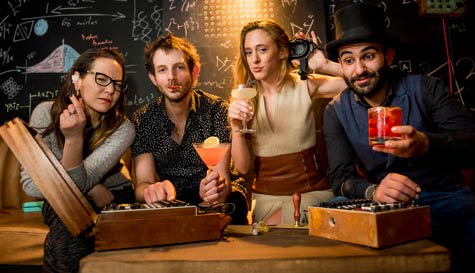 No time for gibbering grooms, there's a war on don't cha know? It's time for stiff upper lips, for never in the field of stag conflict was so much drunk by so few. Yes, inspired by all the finest phrases of what was a dark, yet ultimately resilient and triumphant part of our Island's history.
You and the guys will become the codebreakers. During WWII these were the men and woman who changed the outcome of the war, for you and your fellow stags, it's about beating the codes, beating your mates and drinking cocktails mixed to suit your personal preferences. It's time for action, a time for bravery, a time for booze.
You'll arrive at the top-secret location and be given period costumes/uniforms to wear. Everyone inside is wearing a 1940s costume as you're transported back in time and enter the War Room. Here is where you'll get to work, breaking the codes that will decide your cocktails. This will involve and smelling and tasting ingredients, the outcome of all this testing is for the mixologists to create perfect, personalised cocktails suited to your taste. And of course, they'll be filled with delicious booze.
You'll be using Enigma machines to break the code before using radio equipment to radio your finding to command HQ. It's time to stand up and be counted. You can fall down and lie flat at the end of the evening.
"I may be drunk miss, but in the morning, I will be sober and you will still be ugly." - Winston Churchill