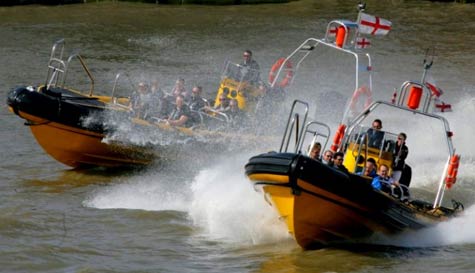 "The names 'Man... Best Man'. Double O stag, license to drink". This is one stunning afternoon you'll be talking about for months! You and your fellow stag agents will be taking to the water at a Calvin Klein shredding rate of knots in a high powered speedboat, just like the world's most famous secret agent.

Speeding along the Thames through the very heart of London and many iconic buildings you'll recognise from the movies, you'll be sitting in a Ribcraft of the type you'll have seen in many top action movies. Once you're all comfortably aboard and adjusting to the roar of the engines and rapidly moving scenery, the skipper will really open it up as you head towards the O2.

It's then simply a case of putting on your worst Scottish accent (or select your own preferred Bond actor), slur a catchphrase or two and imagine the opening credits and eponymous theme tune as you scream down the river. Shaken but not stirred of course Miss Moneypenny.

Your mission is simply to keep your breakfast down and enjoy the most incredible ride through London and recreate the role of Flemming's most loved spy.

Stag/Bond remakes The movies we really want to see.
The Stag Who Loved Me
On Her Stag-esty's Secret Service
The Stag with the Golden Hangover
The Groom Is Not Enough
You Only Stag Twice
Live and Let Stag
Groomfinger
Thunderstag
From Russia with Stags
Stag Parties are Forever
Stagtopussy
A View to a Stag
The Licence to Stag
GoldenStag
Stag Another Day
StagFall