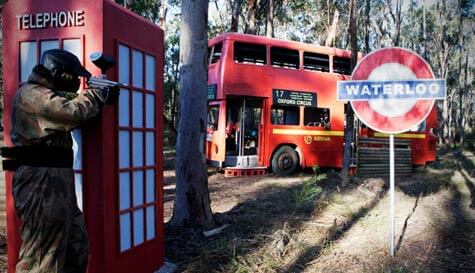 There's nothing quite like a session of paintballing to guarantee stag do perfection. Where else do you get to band together with your best mates, run around dense woodlands shooting each other repeatedly and pretending you've all just jumped out of your favourite 80s action film? Paintballing is epic, and that's why it should be on any London stag do itinerary worth its salt.

Indulge your inner Arnie or Sly in an action-packed day of marching through enemy lines, shooting from the hip and spitting out one-liners wherever possible. Get the PlayStation and Xbox heroes off the couch and test their metal away from the virtual proving grounds of Call of Duty or Halo. This isn't a day for the faint of heart: there's honour, glory and immortality awaiting the victors, not to mention a good dose of smugness; losers can expect to be at the end of countless punch lines.

At our London stag party paintball venue, you'll be kitted out with some of the best paintball gear around, including: pinpoint accurate semi-automatic paintball guns, protective face masks, full-body combat overalls and padded body armour.

If you and the lads are dying to give the groom a Dulux makeover, bring a special costume or a high viz vest with you and persuade him to wear it throughout the day; it's for his own safety. There'll be no hiding when all hell breaks loose for the groom.