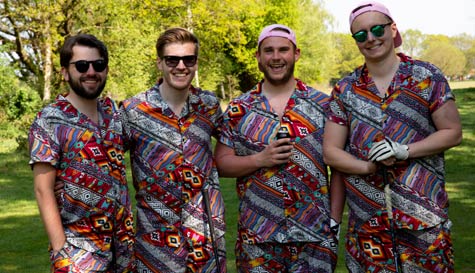 Golf, it used to be all Pringle jumpers, mashie niblicks and Jaguar drivers not letting you join their club. But golf just got cool.

This is golf with beats, golf with style, golf with balls!

First up there's no stuffy collars or boring dress codes, you can wear whatever you want, that includes fancy dress. Secondly, this is just 9 holes, making it perfect for non-golfists or golf virgins. And the holes are bigger so chipping in is much easier (more holes in one). You'll all tee off and rather than the experienced golfers leaving the rest behind, the whole group get to take their next shot from wherever the best ball lies, this makes the game much more competitive on every single stroke. Essentially no one can have a really bad round, but even if you think you're having a good round, you could still get beaten.

You don't need your own set of clubs, hire is included. So are the tunes, there's a live DJ to add more of a party feel and the leaderboard isn't just for your group of five, the leaderboard will show the best rounds for the entire day, so your aim is to make it to the top and stay there even after your round is over. You update your scores via an app on your smartphone which then displays the latest scores as the action takes place.

But all this golf is thirsty work, so at the end of the 8th hole, you'll find a bar (where the DJ is spinning his tunes), where you can get a drink. You can also watch other players as it has a great view of the final hole. Then once you hit that last hole you can get back to the apres golf bar and get another kind of round in. As well as this you can tuck into Poutine, Canadian street food that is a variation of chips in a delicious gravy topped with cheese curds. Perfect hangover food.

Great sporting action, cold drinks, calorie-laden food, top beats, it's everything a London stag weekend needs in one brilliant activity. You don't even need to be that good at golf, making it perfect for every group.