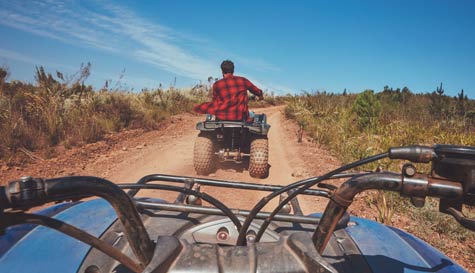 This is the perfect antidote to boring weekly commutes or rush hour traffic, an awesome off-road adventure without a speed camera or traffic cone in sight!
Yep, our Magaluf stag party quad biking will get you and the guys away from the busy resort roads and out into some spectacular countryside so you can get revved up and really explore the island.
The session will begin with transport that we'll arrange to pick you up from your accommodation and take you to the quad bike centre. When you arrive you'll be greeted by the friendly team which will include your English speaking guide.

You'll each be given a helmet and T-shirt to wear during the session (one to protect your noggin, the other to protect your clothes). You'll then be introduced to your four-wheeled mounts and shown the controls. Once everyone has grasped the basics ("Turn this to go, pull this to stop, don't fall off.") you'll hit the trails and explore areas around Magaluf most tourists don't get to see.
The session will start in the morning (a great way to cure those hangovers), and you'll stop off for lunch (food is not included in the package but can be purchased). After that, it's onwards and upwards as your Magaluf stag party quad biking takes in some superb trails.
This is a great way to blow off the cobwebs and have some great laughs on these funky all-terrain vehicles.
Please note:
You must be over 18
You must hold a full driving license
There are a maximum of 9 quads, larger groups will share bikes