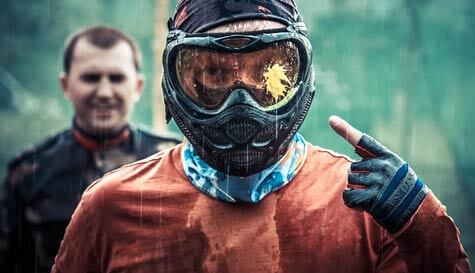 Paintballing has always been and continues to be a bankable sure fire stag party classic. Why? It's absolutely epic!

Our Maidstone paintballing facility offers some of the best gear around for your group's paint warfare needs, including: awesomely accurate paintball guns that fire as fast as your trigger finger will let you, full body Special Forces black combat overalls, anti-fog protective face masks and custom made ammo holders, so you'll feel like SAS or Spetsnaz warriors when you go into battle, gun blazing and paint flying.

There is no other scenario quite like paintballing. You get to band together with your best mates and go running around acres of thick forest shooting each other and shouting out 80s action movie one liners in your best Austrian accent in what you'll later refer to as some quality outdoors time.

The Reading paintballing centre also has some of the best game scenarios around:
Viet Cong Village - Battle for control of the wooden hut village. It's tense, building by building, seize and secure style gunplay that favours the alert strategists amongst your ranks.
Command Post - Destroy the command post by planting a bomb in its core. Attackers will have to protect their bomb carrier at all costs; defenders should be as aggressive as possible to keep the threat at bay.
Chemical Alley - Fast paced straightforward shooting spree with only barrels for cover.