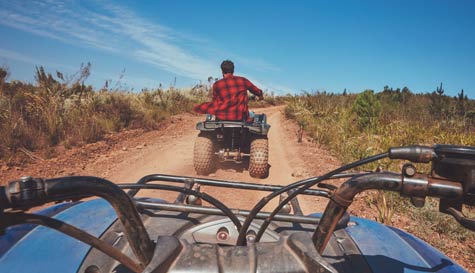 Quad biking is one thing, but for real men who want the complete, fully automatic, bone-crunching, four-wheeled experience then this quad bikes stag party is sure to provide massive thrills and top quality banter during your stag weekend. After being briefed on what to expect during your session and being politely asked not to completely write off the bikes, you'll embark on a mahoosive 9 mile course that will see you carving through an ever-changing terrain filled with trees, boggy patches, big slopes as well as plenty of opportunity to really go wild and let the raw animal power of your 120cc quad bike take over as you rage through any terrain you point this all-powerful machine at.

Riding quads is never as easy as just going as fast as you can though. If you don't pay attention you could end up face-first in a bush or even worse in a pile of god knows what, making you sure to be the target of plenty of abuse for the rest of the weekend. Quad biking in Manchester will take all your driving skill, it's action-packed, off-road action that is constantly entertaining. Especially with the prospect of seeing the groom being absolutely covered in mud if you get the chance to overtake and really spin your wheels in the dirt.

Our quad biking stag party in Manchester is the perfect way to get thrills and spills on your big weekend, it's epic riding at its absolute finest.
Why not add…
…even more crazy challenges to your Manchester stag do. Get a great deal on a second event at our Manchester activity site.
Ask our team for more details.