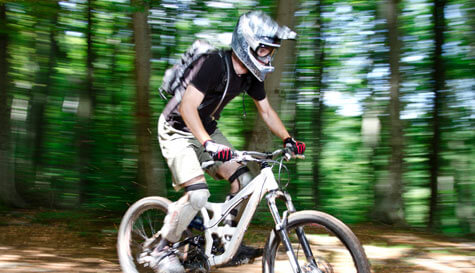 Chances are you haven't been on a bike for a while. Well, unless you're one of those super active types who cycles to work every day, or you take yourself off for a ride on a weekend. In which case we A) doff our caps to you, and B) challenge you to take on our epic stag party mountain bikes. If you and the lads love the extreme physical challenges that the great outdoors can offer you, then you've got to give this a go.

You'll be taking on some of the roughest terrain your destination can offer you, with nothing but two wheels and your own ability with a bike. This will definitely push the lads to the max, and you'll certainly find out who needs to lay off the pies!

Your fitness will be put to the ultimate test if you choose to take on a more extreme route, whether you're riding in the treacherous Brecon Beacons or the sandy beaches of Marbella, there'll be something to challenge everyone.

However, it doesn't all have to be so fast and furious. If you and the boys fancy a new way to explore some awesome country surroundings, why not take a slower, more relaxed ride and choose a chilled out trail? Our guides will choose the route that suits you, so you and the boys can have the biggest laughs possible as you enjoy getting out in the open on these all-terrain bicycles.

Mountain bikes are a fantastic way to get some fresh air that'll let you run roughshod over Mother Nature, while getting some top drawer banter with the boys.