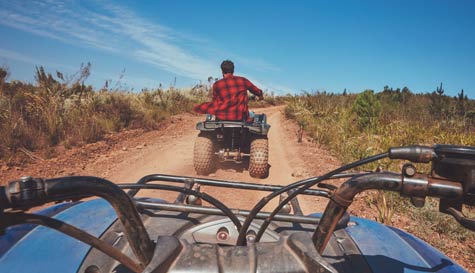 In one of the most popular stag destinations in Cornwall, this Newquay based quad bikes stag party is guaranteed to provide all the adrenaline-pumping action you'd expect from riding a vehicle purpose-built to virtually demolish any terrain you decide to ride it on, or through.

After a safety briefing, you'll head out to the smaller circuit first to get used to the bikes as you're shown by trained instructors how to get the most out of your personal lean, mean mud-spitting machine. Then you and the lads will quickly step it up a gear, as you'll have to face the epic challenge of this Newquay quad centre's stand out feature, a mile-long track complete with several jumps, humps, flat straights and tight bends.

That means that there's plenty of opportunities to get some real airtime as you and the boys tear a new one in this purpose-built track, you'll be going full throttle on fully automatic quads as you rip through this circuit made to thrill and challenge you. This is the ultimate off-road experience and it will take all your driving ability to master this track which is one of the best quad bike circuits in the South West.

Our quad bikes stag party in Newquay is perfect for stags who want to get away from the seafront for an afternoon to experience some bone-crunching, suspension smashing, quad biking action. It's not often that you and the lads get to recreate your own extreme motorsports Grand Prix after all, is it?