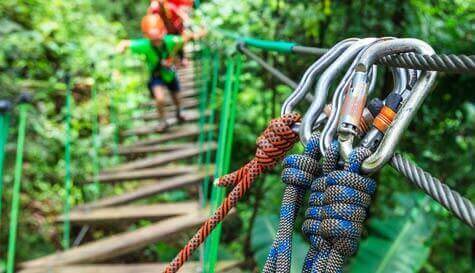 If you've always suspected your mates are little more than a bunch of gibbering chimps, now's the time to put your theory to the test and see how they fare in their natural habitat; flying through air with the greatest of ease. And what better way to do that (for everyone except acrophobiacs) than to try our high ropes activity in Norwich?

Not only do you get the opportunity to experience the great outdoors, see some breathtaking scenery, and figure out if the lads are as big a bunch of apes as you thought, this treetop experience tests your nerves and your abilities. You might think you're fine with heights now whilst your feet are on terra firma, but it's a completely different story when you're dangling helplessly35 feet above the ground! It's not all monkeying around either; you'll need to tackle tricky crossings, rope bridges, Tarzan swings, and zip wires, as well as an assortment of other obstacles in order to complete the course.

Our expert instructors will be on hand with equipment and advice every step of the way so you're never really in danger, but the rush of adrenaline is as real as it gets. We provide everything you need to have a soaring success on your stag do, all you need to do to have a truly memorable time is make sure that you don't lose your nerve!