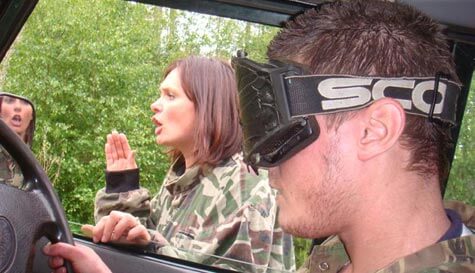 Can you trust your mates? Good... but how much? Can you trust them to bring cameras on the stag do, but not put the photos on Facebook until you've vetted them thoroughly? Can you trust them to order you a stripper, even though you've put up the token protests when your missus was listening? And the biggest test of all, can you trust them not to steer you into a car crash death just 'for the laughs'? Well, let's find out.

Put your friendship to the ultimate test as you get in behind the wheel of the car, blindfolded, with only your mates voices in your ear to act as a guide, and their surprisingly shrill tones of 'not that way!' to guide you.

Each team member will take a turn behind the wheel and your combined times will decide the winner so this really is a team competition. The fastest joint team time with the least amount of penalties to add on will be the winners.

Best of all is the fact that you'll be able to watch your competitors as they instruct, shout, bicker, fall out and maybe even crash (just a little bit, you don't want them getting hurt but you really want to take the p*** out of hem later). It's a superb activity which will create some great competition and banter between the lads.

This really is just like a Top Gear challenge, although we'd respectfully request you try and avoid upsetting the Mexicans, getting run out of Argentina, or punching any passing producers.
Add more power!
You can add even more activities at this site for a full day of stag party action.