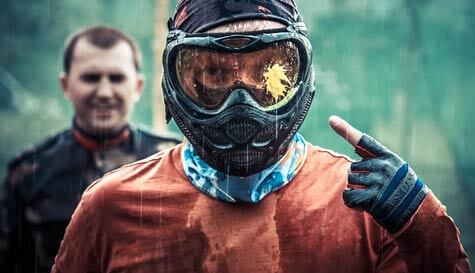 Stag party paintball is an all in, balls out, trigger happy, legendary activity which is bang on target for an epic stag do!

Paintball is synonymous with stag parties, while some might consider it a stag cliche the fact of the matter is paintballing is brilliant! Where else will a group of grown men get to run around holding guns, shooting at each other without the old bill getting involved? It is total unabashed regression to the best of your childhoods with the added bonus of having brightly covered ammo so you can see exactly where you hit your targets.

Not only do you get to shoot your opponents/best mates (and teammates "by accident") but you also get to give the groom a complete Dulux makeover ahead of his big day.

Plus in recent years stag do paintball has become high tech, you can add smoke grenades, scopes, indoor and outdoor facilities, ex-military bases and all manner of man-madness. We can even offer stag party paintball tanks. Yep, shooting at each other with genuine, bonafide tanks. Oorah!


Making stag party decisions...
If you're looking for a stag party activity, always consider the following factors before you make any final decisions;

• Will you get to run around?
• Will there be winners and losers?
• Will it cure a hangover?
• Will anyone who has a hangover be made to suffer?
• Are there any guns?
• Will everyone have a laugh?
• Can you shoot the groom?
• Repeatedly?

If you get a "no" to any of those answers then we would seriously urge you to reconsider. Stag party paintballing is where legends are made, so during the course of conflict remember the words of the ultimate tough guy Rambo "Always go for the happy sacks." (we might be paraphrasing a little).