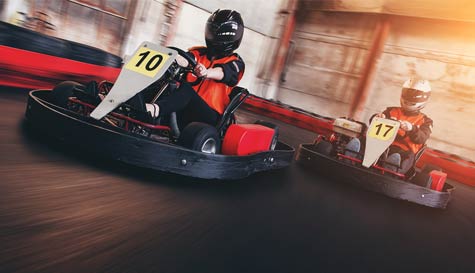 If you're looking for high-speed weekend action then our Prague stag party go kart track is quite simply superb!

You might well "feel the need for speed" but so do the rest of the stags and we're fairly sure they'll be no room for sentiment once the lads are going wheel to wheel over the 500m track. It's a great racing arena to settle any old sporting rivalries and answer the question once and for all which of the stags is the best driver.

High Precision - It's not just your driving that will (hopefully) be high precision, the track is fitted with digital timers to record all the stags' telemetry, giving each stag his race times, fastest lap, overall position, etc. And there can be no hiding either as all the times are shown on a giant screen.

You'll be kitted up in racing suits, gloves and helmets and shown how the karts work. But these aren't just your average go karts. These bad boys are 210cc Subaru karts with all the grunt and tight steering you'd expect from Subaru. That means if you do get to watch one of the stags fail spectacularly and end up parking it on the tyre wall, you can wave away their pathetic excuses. The site also has a sports bar so you can toast the winner's success.

This Prague stag do activity is one of the finest racing experiences known to stag-kind you'll be able to crown your very own "Stag Stig" and give "Captain Slow" a few pint penalties.

Your session will last approx 2-3 hours including transfers times and briefings, the races will go on for approx an hour depending on group size, of which each driver will get a full 30 minutes driving time.