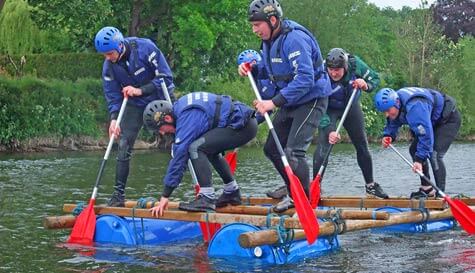 Raft building is the perfect chance for you and the lads to really push the boat out and make a splash on your big weekend. Isn't it aboat time you and the buoy's gave in to the pier pressure and decided to seas the day?
All puns aside, this is an epic activity that'll see you and the lads put your heads together to try and construct a better raft than the rival team with a load of different building materials including wooden poles and huge buoyant barrels. This is sure to result in big laughs, as you get stuck into this Scrapheap Challenge style experience wherein the end, it really will be sink or swim!

That is unless you can actually build a raft that floats of course, which will be harder than you think. Making a boat watertight is an extreme challenge, and you might be lucky enough to witness the groom slowly sink beneath the waves like the good ship Titanic on his raft's maiden voyage.

Although you're highly unlikely to need your boat building skills again unless you end up abandoned on a desert island, this really is a great way to get to know any stags who you haven't met before. Not much makes friends faster than laughing your head off as you desperately try to row to the other side of the lake in your rapidly disappearing raft.

Stag party raft building will set you up for a seriously ship-shape stag weekend!

(Ok, we're definitely out of puns now).