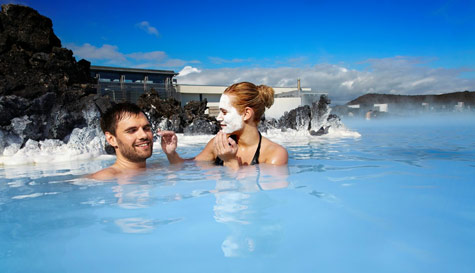 No trip to Reykjavik is complete without a session in the Blue Lagoon... After all those extreme water sports and intense hikes you're going to be in need of a few hours rest and relaxation. The Lagoon itself is world-famous, one of the most popular spots for tourists in Iceland and by far one of the best geothermal spas in the world - so lads, if you're going to kick back and soak anywhere, this is the single best opportunity you're ever going to get.

Due to the huge amount of rich minerals in the naturally hot water (including silica - a great all-rounder as far as minerals go, but especially good for relaxing aching muscles and reinvigoration), it's essentially the best remedy to a weekend of stag activities possible... You might swear by the virtues of a Bloody Mary or a fry up, but they don't have anything on the incredible hangover-curing properties of a session in the Blue Lagoon.

If you needed any more incentive to stop by the Lagoon, there are also some honestly breathtaking scenic views out over Reykjavik and beyond, mud baths, massages and spa treatments, and plenty of tourists and locals relaxing in their bikinis. It's pretty much as close to heaven as you're going to get. It's also perfect stress relief for the groom after months and months of hearing about nothing but weddings and having to have endless conversations about wedding details he previously didn't know existed let alone thought would one day be the cause of so much grief (what is a mochaccino coloured napkin ring anyway?!?).

So sit back, relax and let the waters work their magic.