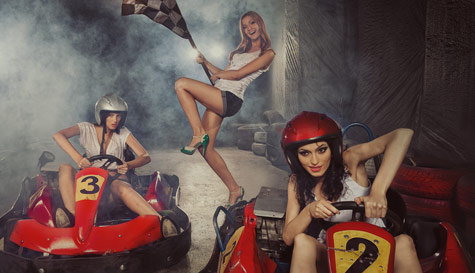 We've all had the argument about which one of the boys is best behind the wheel and our Riga indoor go karting facility is the perfect place to settle that dispute once and for all. There's a reason why go karting in all of its forms is always a popular stag party activity: it's awesome! Where else do you get to speed around a race track, competing against your mates and indulging your inner Ayrton Senna without adding points to your license or writing your pride and joy off?

Show off your racing credentials by pulling every move out of the bag, from defensive cornering to slipstreaming, you'll need all your driving skills and expertise to walk away with those invaluable stag party bragging rights. Whether you're battling it out in the corners or just trying to make it to the end of the session without ending up in the tyre wall, indoor go karting offers all the thrills of go karting without Mother Nature getting in the way.

Our Riga indoor go karting centre is home to one of the most action-packed indoor circuits around that'll let you get up to speeds of 55mph in your 270cc beasts, which when you're mere centimetres away from the tarmac feels bloody quick! The track is 600m too, which will give you plenty of space to make your attacking moves over the course of the session.