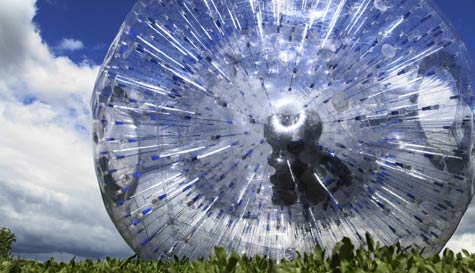 If you've ever looked at a hamster in a ball and thought 'that looks fun', or fallen down some stairs and thought 'I'd quite like to do that again', then you're in luck - zorbing has finally reached Latvia! This mad, ridiculous, literally stomach-turning activity was invented in New Zealand, and involves being strapped inside a huge ball which is inflated with air for maximum bounce, and then thrown down a bumpy hillside to spin, roll and plummet down the hill at speeds of up to 30 miles per hour.

It's a completely crazy, dizzying and wild activity... which makes it absolutely perfect for a bunch of equally insane lads on a stag do. There's no rush quite like it and we don't just mean all the blood rushing to your head. It's fun, it's unique, and it's likely to be something the boys will remember forever. This is one activity that's going to be hard for any hungover stags to stomach, which will make it barrels of fun for all the lads watching from the top of the run as the poor guy stumbles out of his sphere.

Our Riga zorbing session is particularly good for lads with a taste for the barmy. You can choose between zorbing on water (a bit slower but infinitely more splashy, and with the fun threat of submersion present), or the more traditional zorbing down a hill. The Riga zorbing route is custom-built for maximum bumpiness, with intentionally uneven ground for more bouncing than you'll find anywhere else.