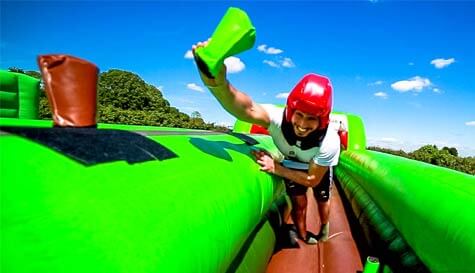 "Olroight, moy luvverrrrr." Welcome to the West Country and the maddest sporting event since John Terry challenged the Lithuanian netball team to a game of naked paintball.
Imagine if The Wurzels were to organise the Olympic Games, purely for athletes who don't train but stick to a strict regime of pies and family packs of crisps. And rather than illegal substances, the competitors were being fuelled by Somerset's finest scrumpy cider...
Welcome to the Somerset Challenge! It's going to get messy.
Please note: From November to February, the event runs indoors… but it's still messy!
Events include:

CIDER RUN CHALLENGE: A glass of cider is placed at one end of an inflatable run, all you need to do is reach it first. The only problem is you're attached to the start by a bungee rope.

PITCHFORK DUEL: You and your competitor will battle it out against one another using inflatable pitchforks to topple the other from their podium!

MANGOLD DANGLING: Bar skittles but with human targets on cider kegs!

WURZEL KNOCKOUT: Armed to the teeth with cider apples and a huge catapult, you need to take out the target in the fewest number of shots.
WEST COUNTRY WIPEOUT: A pedal-powered sweeper arm and last stag standing fight to the pub.
VICKY POLLARD HANDBAGS: "Yeah but, no but, yeah!" Get your Burberry handbags at the ready to wallop your opposing chavvy mate while dressed in big comedy suits.

WELLY WANGING: Sharpshooting farmer-style. Take out the targets with a well-aimed welly.

DRUNK PUB SKITTLES: This is real West Country pub skittles on a grand scale, and it's another chance to give your opponents some earache. Easy when you're not dizzy drunk, but try spinning around a pole first!

FARMER SHOWER: Strap the groom into the "Tractor Seat of Truth," then the lads will fire a series of questions at him! If his answers don't meet your approval then no amount of product will save his precious hair from the bucket of dirty ditchwater balancing above his head.