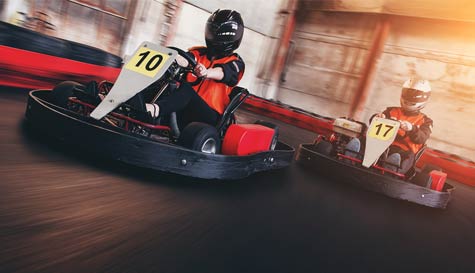 At our go karts stag party in Southampton, you'll discover the raw thrill of whipping that visor down, putting your foot to the floor and of course, most importantly, beating your best mate to the finish line. There's no room to hold back, put the pedal to the metal and enjoy the best indoor go karting that Southampton has to offer!

This purpose-built 400m indoor track inside the city offers some of the most epic twists and turns in the south and will put the boys driving skills to the ultimate test. So if the lads have been getting just a little bit too confident recently about their 'godlike' driving skills, this is the perfect chance to knock them back down to earth as you speed past them and leave them in the dust, laughing your head off as you go!

However, it won't all be as easy as just bombing it down a few straights and making sure you brake in time for the corners, this awesome track makes it necessary for you to use control as well as speed as you enter down the bridge-style exit corner which will blast you off into the final straight at a whopping 40mph which is definitely brown-trouser driving when you're this close to the floor. Our go karts stag party in Southampton is perfect for stags looking to keep everybody together and laughing before the big night ahead.