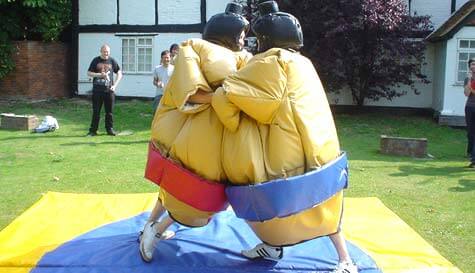 If you and your mates sport the kind of physique that's more suited to sumo wrestling than WWE wrestling, this activity is perfect. Luckily, there's no need to brave getting naked, don a tiny thong or pull your hair into a tight bun (whether you're a fan of the man bun and top knot craze or not!), as these huge suits are worn over clothes and works even if you're a bit of a beanpole.

Wearing a huge padded sumo wrestler suit, grapple with your opponent and do all you can to shove them out of the ring. This is the perfect opportunity to prove who really is the toughest member of your stag group without anyone's ego (or body) getting hurt in the process! Whatever your group loves to do, you can guarantee everyone will have a fantastic afternoon and all the guys will be left in hysterics!

After the initial bravado and posturing, including a round of pre-fight wedgies, you'll get to don the suits, shikiri (eyeball) your opponent with an icy glare and at the sound of "hakkeyoi" commence your fight as an inflatable assisted sumo warrior. Remember to reward yourselves with extra points for form, nicknames, calamitous mistakes and sweating. Players will have to fight multiple opponents during the competition, with the highest-scoring team being crowned the winners and earning vital stag bragging rights.

This is the kind of activity that fuels pub banter for years to come, so suit up, bow and do battle in the name of ludicrous stag party carnage.
Ok, so you might not be looking so cool but this is a stag weekend, no one is supposed to look cool. And the groom has never looked all that cool so he's certainly not losing anything. This is about making people look not cool. By pushing them out the ring, by slamming them onto the mat, by showing them exactly who's the boss. "I'm the daddy now!" Go get 'em Tiger!