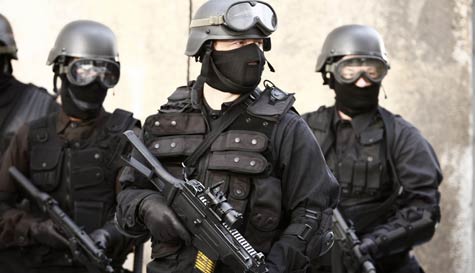 "You're either S.W.A.T. or you're not." So said the movie posters to S.W.A.T. and there is some truth in it. This is an activity that really does test you and see if you have what it takes in a high pressure, gun-toting, adrenalin-fuelled mission that really will get your hearts pumping.

This is the ultimate activity for those stags who demand stag excitement and are keen to try something totally different. This amazing SWAT experience will see you carry out an SAS style search and rescue in a thrilling custom-built battle zone, with specially designed corridors, rooms and dead ends intended to stimulate and disorientate your senses.

This is a great activity for stags that haven't all met before as you'll soon buddy up with a need for total teamwork and awareness of those around you. Plus you'll get more than a few laughs along the way as there'll be close shaves aplenty while you fight to keep your team in action.

Kitted out in a custom-built SWAT style vest, combat clothing and head and face protection, you will be tested to the limit. You will be working in groups of small units and teams as you will be set a series of demanding challenges in a purpose-built mansion. It is a fully immersive, ultra-realistic experience as you are forced to work together to overcome the scenarios facing you while facing incoming bullets (and possibly dealing with teammates who would be better off applying to join the Women's Institute than a real-life SWAT team). But for those fully committed this activity is seriously bad-ass.