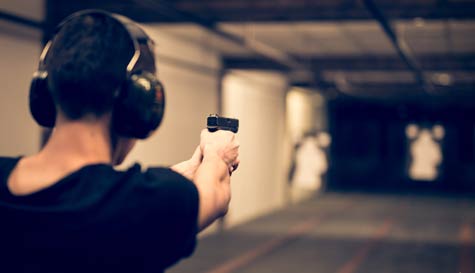 If you're looking for a stag weekend with a bang then this is the real deal. While back in Blighty most shooting ranges are now banned from putting high powered semi-automatic weapons in the hands of complete strangers ("...it's health and safety gone mad...") our European neighbours are far more obliging and have a host of serious firepower just waiting for your itchy trigger fingers.

AK47's, Glocks, .44 Magnum, .357 Magnum, Colts, Lugers, Pump-action Shotgun, Heckler & Koch, Uzis

Health and safety is still paramount, there will be professional instructors on hand to give you tips and make sure everyone goes home in one piece (explaining to the bride-to-be that the groom has a hole in him can be a bit tricky). However, in comparison to other activities, target shooting really does give you far more bang for your buck and this really is the stuff of boyhood dreams.
A Little Friendly Competition...
All stag dos need a little competitive edge and as well as being massively exhilarating (try firing an Uzi without wanting to say "Yippee-kai-ay motherf..." in a gravelly voice as you empty the clip!), target shooting also offers the perfect opportunity for some friendly competition and even a gentlemanly wager or two. From Amsterdam to Vegas we have lined up some of the top ranges across Europe and beyond. Guns on offer at each location will vary so please check with our Destination Managers as to what is on the hardware menu at your chosen destination.
UK Target Shooting
While it is true most UK shooting ranges won't allow groups much more than pea-shooters here at StagWeb we live no shell casing unturned and can provide Assault Rifle Shooting in Bournemouth and Bristol.