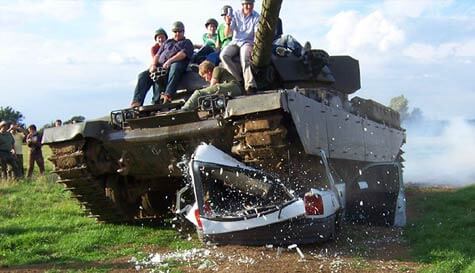 How many times have you been sat frustrated in rush hour, stuck behind a Sunday driver or the dreaded caravan and thought to yourself "I wish I was in a tank right now"?

Well, gentlemen, you can now unleash all your road rage in a day of total car-nage (see what we did there?). You'll get into the hot seat of a number of mighty metal rolling leviathans taking on all kinds of terrain.

Vehicles include:

432 Armoured Personnel Carrier
Russian Gvozdika
Lance Missile Carrier
Supacat

More bang for your buck...
You can also add more to your session with options including refreshments, lunch, survival demo, clay pigeon shooting and flintlock rifles.

This is an epic day of metal destruction and something completely different from the average stag do making it a weekend that the lads will never forget.