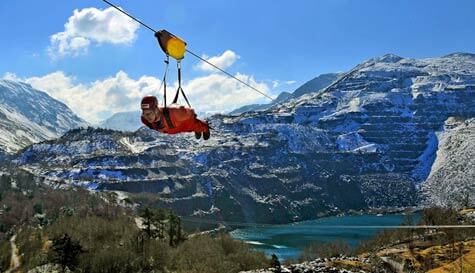 At StagWeb we are always looking for the biggest, highest, fastest and craziest thrills and this certainly ticks all the boxes for a completely mad stag ritual for guys who like to go beyond their comfort zones and try the baddest rides possible. This is, without doubt, the ultimate stag party zip wire experience.

This is Europe's longest zip wire, which extends for a mile across quite stunning scenery. Not only that, but it's the fastest in the world, reaching speeds upwards of 100mph? You really will be hard-pressed to find an adrenaline junkie thrill ride on quite such a grand scale. There certainly aren't many chances of hitting 100mph with nothing but your own velocity (and at that height and speed thankfully no one can hear you scream). You might want to avoid looking down though.

At this site in North Wales, you will experience two zip lines. Starting off with a more gentle zip wire, which reaches a mere 45mph (that's kids stuff!), you will then make your way up the mountain and be given a quarry tour (once the largest slate quarry in the world). Its then time for the main event, as the mile-long journey sees you hit triple-digit speeds and gives you incredible views of the North Wales coastline. It is simply an unbelievable, unique experience that the lads will never forget.