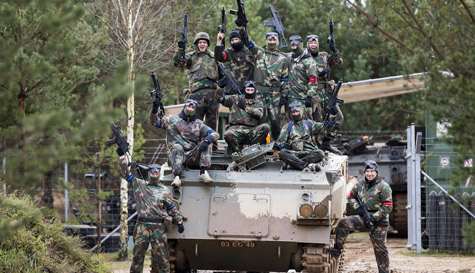 Life today is far too easy, somewhere between the microwave and the iPhone we forgot how to jump into combat feet first with nothing but an airsoft rifle, a camo jumpsuit and a war cry. Luckily StagWeb has the perfect way to roll back the clock and turn you into war machines once again. As the best man it's up to you to organise a killer stag party, and what better way than to find out which ones of your group has that killer instinct (in airsoft of course).
When you and the boys arrive for basic training as mere grunts you'll be given a lesson in battlefield tricks and tactics from one of the expert instructors. Then you'll be provided with camouflaged jumpsuits and protective masks to keep everyone safe when the action starts. However, this being a battlefield in Lithuania you will need to dress for extreme outdoor fun with one eye on running around in muddy and wet conditions.
When everyone is battle-ready (or when the groom has stopped jumping at the sound of airsoft fire) you'll be unleashed on the first of three missions. You'll be armed with some seriously realistic AK47s and a full metal jacket of 500 rounds of airsoft ammunition.
Each mission will pit stag against stag in an airsoft warfare in battle to the... pub. You'll play three missions, each made up of two games so that's six games in total. Each one is different with various bases to attack each other from. This all builds to your final mission where teams will take it in turns to storm a secret base using a real tank as transport like true warriors! To make sure everyone makes it to the party on time we'll provide you with free transport to and from the battlefield (not by tank but still useful) and an English-speaking guide.
So make sure you and the boys come back from the groom's stag with some real war stories. Just remember, all's fair in love and war.