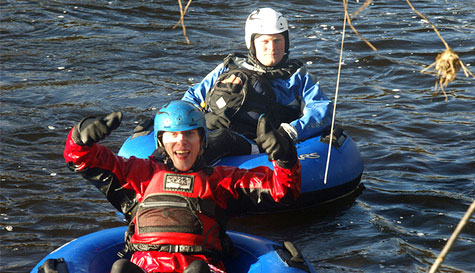 "Rafts? Rafts are for wimps. I like to face white water with nothing but a tyre. Here, pass me that bike, I'll grab an innertube and them I'm off!".
It's time for something totally different, a whole new stag challenge that makes soft options like whitewater rafting look like a luxury cruise for over 50s. This is whitewater racing done hardcore! Not only that but while people in canoes look cool and teams in whitewater rafts look like thrill-seeking explorers, blokes in tubes just look… daft. Exactly what stag weekends are all about, doing things that you really are old enough to know better. Plus you each float solo, which gives you a lot more control of exactly where you go, and there's less risk of one person (the groom, why is it always the groom?!?) causing the rest of you to capsize.

And while it looks easier, whitewater tubing isn't a cop-out rafting choice for the faint-hearted. Tackling the rapids in a tube that looks a bit more suited to the flumes at your local swimming pool takes some serious cajones and adventuring nerve, it's a seriously heady, thrilling rid.

You'll all be a lot closer to the water so get the opportunity to become personally acquainted with every bump and twist on the ride down and there's an additional danger to... lean too far one way, and you'll be plunged into the waves, without a crew to haul you back in. You really will be heading down stag creek without a paddle.

Whitewater rapids are already a stag do favourite for their fast-paced action, but if you want to take it up a notch, "turn it up to eleven" and test the guys (and their breakfasts/hangovers) to the max, our awesome whitewater tubing is definitely the way to go.