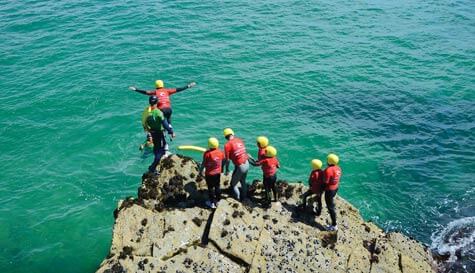 Not all stag parties are created equal. Some have a bit of speed, a few laughs, maybe some paintballs whizzing through the air and some are truly EPIC!

Woolacombe stag party coasteering really will raise your weekend into the ranks of legendary stag parties and will separate the stags from the boys. For those not in the know, coasteering involves steering a piece of coastland from A to B using any means available; climbing up rocks, leaping off cliffs, swimming in whirlpools, exploring caves. As well as being a superb stag challenge, all these potentially lethal activities combine to make the daddy of all hangover cures.

It really is just about the most fun you can have with a wetsuit on. What's more, it's set against some of the UK's most stunning coastline. Ideal to get some brilliant stag team photos to post on everyone's Facebook pages.

It's the kind of day the lads will be talking about for weeks to come and certainly a hugely memorable experience that the blushing-bridegroom can look back on for years to come and know that you delivered a truly kick-ass stag weekend.

In fact, what are you still doing reading this? If you think you're tough enough, stop reading and get booking. This is one of our most popular Woolacombe stag adventures and the limited available places can get snapped up quickly so contact us today to check availability get the lads booked up.