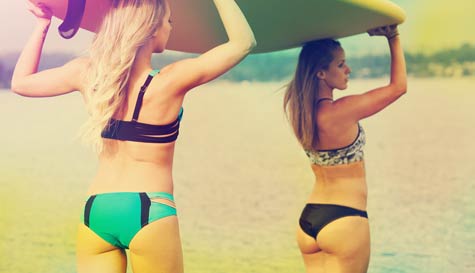 If you're surf-mad, we don't doubt that you'll have heard about the wonders of Woolcambe sands. Well known as one of the biggest surf hotspots in the whole of the UK, you're sure to live out all those extreme sports fantasies when you visit North Devon with your stags. Whether you spend most of your time upturned in the waves or come out as a top boarding pro, it's ridiculously fun! A whole world away from paintball and go-karting, this is something totally different.

Experience one of the UK's coolest sports with our exhilarating Woolacombe surfing. Whether you're a rookie who has never seen a board before or a seasoned pro with Hawaiian tattoos, golden hair and a pair of loud board shorts, our instructors will have you standing up after just one lesson and help to brush up on any pre-existing skills. Surfing is a fantastic group activity which anyone and everyone can get involved in. Our surf school in Woolacombe offers up a fantastic opportunity to ride the waves along with expert tuition from the best in the business - all you need to do is bring along your finest pair of novelty Speedos and a good sense of balance.

Woolacombe surfing is a great way to spend a morning or afternoon on the beach with the lads learning an impressive skill that once you've learned, you'll never forget. Besides, it'd almost be criminal to come to Woolacombe and not surf!