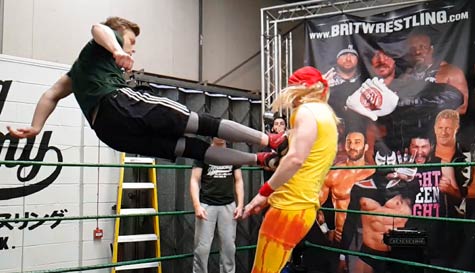 If you grew up in an era of WWF/WWE there's a good chance, at some point, you and your friends tried giving each other a smackdown. Whether in your head you were Andre the Giant, Bret the Hitman Hart or The Rock, pinning down your unsuspecting sibling (or a younger version of the groom) for a count of three was mandatory. However, wearing a robe or growing a wet-look mullet was/is optional.
"What you gonna do, brother, when Stag-amania runs wild on you?"
Now you can relieve those glories and actually make the groom's boyhood wrestling dreams come true. What could be better than bringing the best man or even the groom down to size by pinning them to the ground? Battle it out to find out who among you is the king of the ring, and who's the queen of the canvas.
Classes May Include:
20 mins Wrestling Warm Up - Squats, wall climbers, grape crushers, and more hangover testing exercises.
15 mins Top Rope Free Fall - Learn how to fall from the top rope and land safely and hopefully flatten your opponent.
15 mins Bumping - You'll be shown how to 'break fall' how wrestlers hit the mat uninjured.
20 mins Slams & Suplex - As well as learning these classic moves, depending on ability level, you'll be allowed to perform these on each other!
30 mins Strikes - Our instructors will show you strikes from running forearms, clotheslines, dropkicks, chops and, if willing, you can do them on each other.
10 mins Rumble - Let's get ready to Rumble! Mini royal rumble to try out all your new moves. Time to lay the smackdown!
Coached by professional wrestling trainers (all ex-pro wrestlers), you'll learn ring craft from seasoned fighters as well as the training required for those that make a living across the UK and in international bouts around the world.
This isn't an event for wimps, it's not quite "No holds barred" as you'll need to stick to the regulated wrestling techniques. The high skill level means you'll have to keep your wits about you and learn real wrestling moves to survive the final bout against your foes. The session ends with either a tag battle or "Royal Rumble". Come and have a go if you think you're hard enough!
Let's Get Ready To Ruuuummmmbbbllleee!!!
Please Note: Duration is dependent on group size and larger groups can expect a longer session. Please see an approximate guide below:
8-15 people - 2 hour session
16-25 people - 2.5 hour session
26-49 people - 3+ hour session
Please note: The Wrestling School is located in Preston