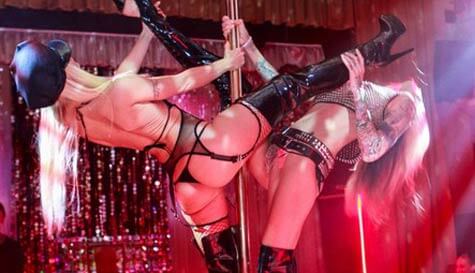 In the heart of the world's most famous Red Light District sits a bar that has almost mythical status. You've probably heard blokes talk about it. You know the one, yeah, where the girls do that stuff with the things. Yeah, THAT bar.
Well don't be a stranger any longer, it's time for you and the guys to find out for yourselves exactly how good the legendary show is. And it's so much more than you can possibly imagine - "But we've got a very good imagination" trust us, no one was imagining this!
For the first hour of your evening you'll receive unlimited free drinks, served by barely dressed, smoking hot babes. And then the lights go down and 'It's showtime!'. Cameras are a big 'no-no' so don't even think of trying to film it (rules are strict, security staff are there to protect the show so play nicely). You'll then find your eyebrows getting higher and higher in utter amazement, watching trick after trick from performers that while utterly brilliant and unbelievably sexy are highly unlikely to appear on the Royal Variety Performance any time soon.
This is a show and night out the groom and rest of the stags will never forget, the undoubted highlight of any Amsterdam weekend.
As for the name, 'banana' bar… You'll figure it out. Enjoy!