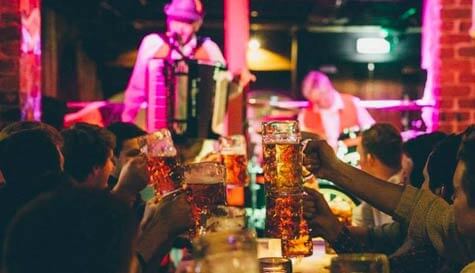 Who doesn't love beer? Well, you at the back can go and wash your mouths out and have a bloody good think about things... The rest of you will be pleased to know that this is a night of Bavarian laughs, mad music and giant beers!
You see the Bavarians really do worship all things beer related. To the lederhosen wearing man about Bavaria, beer is life. And who are we to say they're wrong? What we can definitely say they got right are their brilliant 'bierkellers' which are a carnival of beer flavoured fun.
You'll be shown to your table and meet your lovely waitress who'll bring you your first round. Once seated you'll enjoy either a two-pint haus stein or half-pint stein cocktail (for the delicate groom perhaps?). There's time to get a bite to eat (we have great food deals available for pre-order) and wet those vocal cords. Then things get really mad! Whether it's the beer or the hypnotic swaying but it's simply impossible not to get drawn in and you'll soon be singing and swaying like you were at Oktoberfest itself. Cheers!
You can also pre-order a fantastic feast for the whole party (extra fees will apply)
Sample Menu
Starters
Barbecue chicken wings
Bruschetta (v)
Haggis croquettes
Main Courses
Hot dog
Breaded camembert sandwich (v)
Barbecue burger
Cajun chicken fries
Desserts
Banana, toffee & walnut Eton mess
Mixed berry compote Eton mess
Trio of ice cream