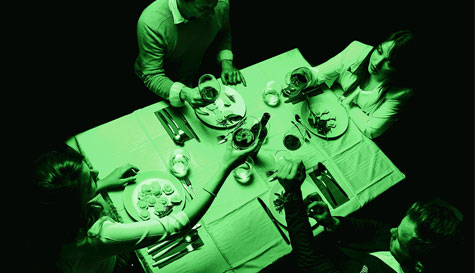 It's probably a fair point that your dinner will be far more palatable if you didn't have to sit facing some of the other stags (and don't even get us started on their table manners!?!). So there's already a lot to be said for the idea of dining in the dark. But it's actually a superb experience, sure to be a major talking point and something all the guys will be telling everyone about when they get back home.
Why eat in the dark?
Your eyes are your most used sensory organ and account for 80% of your general perception. When you remove your sight, it heightens the other senses letting your sense of smell and taste really take over.
Does it feel weird?
Well yes, of course it's a bit odd, you don't normally sit and eat in the dark (unless you're pretending you're out to avoid carol singers/trick or treaters/the in-laws) but you get used to it and it's a really interesting experience.
How will we know what we're eating?
You won't. Certainly not as each dish arrives but that's part of the experience, this is a mystery menu comprising of traditional Slovenian dishes given a modern twist. The head waiter's voice will guide you through the evening. (Tell us in advance of any food allergies or dietary requirements).
What's it actually like?
It's actually a really interesting experience that everyone should try. It's also a brilliant way to enjoy a few laughs with the guys and fire off plenty of jokes at the groom. If you're really sharp you should prepare a forfeit in advance for the first stag to say "actually, you look better in the dark…" So predictable!